Published November 2, 2016
The official attendance total reads 56,715, but by now, some 200,000 (or more) might lay claim to having been in old Cleveland Stadium on April 8, 1975.
That's the day that a black dude joined the umpires at home plate before a major league baseball game and and exchanged lineup cards—as a manager.
Frank Robinson wasn't new to managing that day. Some folks might not know that. Robinson managed several years in the winter leagues in his later playing years, but this wasn't the winter leagues.
This was big league baseball. And these were the New York Yankees in town.
Robinson badly wanted to be a big league skipper. He made no secret of that.
In fact, his open campaigning to do so led to the California Angels trading Robinson to the Indians midway through the 1974 season.
Robinson was one of baseball's most underrated players—a terrific hitter and outfielder who somehow mostly flew under the radar whenever the discussion turned to the game's all-time greats. It didn't help that Robinson performed in the era of Mays, Aaron, Mantle et al, but nonetheless, a man who slugged 586 home runs, snagged a Triple Crown and who won the MVP Award  in both leagues, got the short shrift.
Robinson took to managing in the winter leagues like a fish to water. It only whetted his appetite to do the job in the big leagues.
There was only one stumbling block to Robinson realizing his dream: the color of his skin.
But that stumbling block only fueled Robinson's desire. He became infatuated with being the first black skipper in MLB. As his playing career wound down, Frank lasered in on breaking baseball's next biggest color barrier this side of another Robinson.
The Angels weren't a good fit in being an accessory to Robinson's mission. They hired Dick Williams—two-time World Series winner with Oakland—in July of 1974. They were set in the dugout.
So the Angels dealt the 39 year-old Robinson to the Indians for a catcher named Ken Suarez on September 12, 1974. If Robinson was going to be the majors' first black manager, it wasn't going to be in Anaheim.
The Indians didn't take their time.
Shortly after the 1974 season ended, Cleveland GM Phil Seghi announced that, starting in 1975, Frank Robinson would be player-manager for the Indians.
You couldn't have scripted a better debut for Robby in the dugout than what happened on April 8, 1975.
Robinson penciled himself in as the Indians' DH, batting second. It was a role he was familiar with since joining the Angels in 1973.
The Yankees' starting pitcher that day was Doc Medich. And in his very first at-bat as player-manager in the bottom of the first inning, Robinson took Medich deep with a solo home run.
The Cleveland crowd roared in the cold, creaky stadium as Robinson rounded the bases.
The Indians won the game, 5-3, and in his new job as pilot, Robinson didn't even have to make a pitching change. Tribe starter Gaylord Perry went the whole way.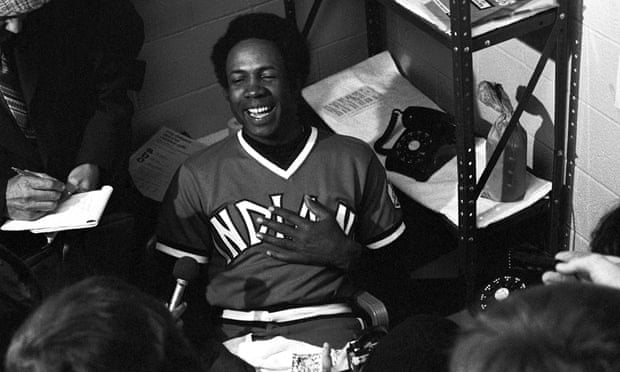 Robinson's Indians teams weren't great; they were a mediocre bunch that lacked star power. He managed them for two seasons (157-158 record) while also remaining as an active player. For the 1977 season, Robinson said he was retiring as a player so he could focus on managerial duties.
Maybe he should have kept playing.
The Tribe fired Robinson after a 26-31 start in 1977, making him also the first black manager to get the ziggy.
Robinson's managerial stint in Cleveland wasn't a publicity stunt. He went on to manage the Giants (1981-84), the Orioles (1988-91) and the Montreal Expos/Washington Nationals (2002-06). Though he wasn't regarded as one of the game's best skippers, overall—he often managed by "feel" or "gut instinct" and didn't pay much attention to statistics or metrics of any sort—he did win Manager of the Year twice (1982 and 1989). And there's no taking away from Robinson's place in baseball history.
Oh, and Robinson is also the author of one of the most often repeated quotes of all-time—in baseball, sports, and all walks of life.
"Close don't count in baseball. Close only counts in horse shoes and hand grenades."
One thing is certain. There were no horse shoes or hand grenades involved when it came to Frank Robinson becoming baseball's first black manager.