Published Sept. 2, 2018
In a presidential campaign in a galaxy far, far away, the tagline was used, and with great effectiveness.
"Are YOU better off than you were four years ago?"
The question, splattered all over TV commercials, the radio and in newspapers, was so effective, that it was credited with helping win the election for the nominee.
If there was such a thing as running for head football coach at the University of Michigan, and if I was the campaign manager for the challenger to Jimmy Harbaugh, I'd bring that successful presidential question out of mothballs.
"Hey U-M fans: are YOU better off than you were four years ago?"
U-M football: run of the mill
It's been four seasons now, believe it or not, since Brady Hoke was prowling the sidelines in Ann Arbor, his headset-less head making the Wolverine faithful foam at the mouth.
Four years since the alumni and students called for that headset-less head on a Maize and Blue platter.
Four years since dreams of sugar plums and Harbaugh danced around, tantalizingly so.
Is Michigan football better off now than it was four years ago?
With Saturday's excruciating 24-17 loss at Notre Dame, the Wolverines are now a pedestrian 9-9 in their past 18 games. I'll leave it to the stat nerds to find out for sure, but I bet they'd have to go back quite a ways to find the last time Michigan football split 18 games down the middle.
Let's cut to the chase, because no one else seems to want to answer the question head on. The mainstream sports media in town is really good at moving themselves to the edge of cliffs but then pulling back.
They bemoaned the firing of Jim Brandstatter from the Lions radio booth this summer, yet refused to call out Brandy's replacement, Lomas Brown, for having admitted to purposely whiffing on a block in the hopes that his own quarterback got blown up.
So it goes with Harbaugh. The writers like to cite numbers as I just did with the 9-9 thing. They like to show consternation over the lack of wins over ranked opponents. They like to frown at the ill-preparedness of Jimmy's teams over and over. They like to point out the silly penalties that occur, and often with the worst timing possible.
But no one wants to ask the ultimate question.
Is it time to declare the Jim Harbaugh Era a flop and part ways?
The fact that this is almost a rhetorical question doesn't give the press a pass. See what I did there? Press…pass?
It's rhetorical because I don't see the administration at Michigan giving Harbaugh the ziggy. If anything, it will be the other way around.
You can't fire Jimmy Harbaugh because he just quit.
Harbaugh has shown to be a guy with one eye on the NFL when he's in college, and one eye on college when he's in the NFL.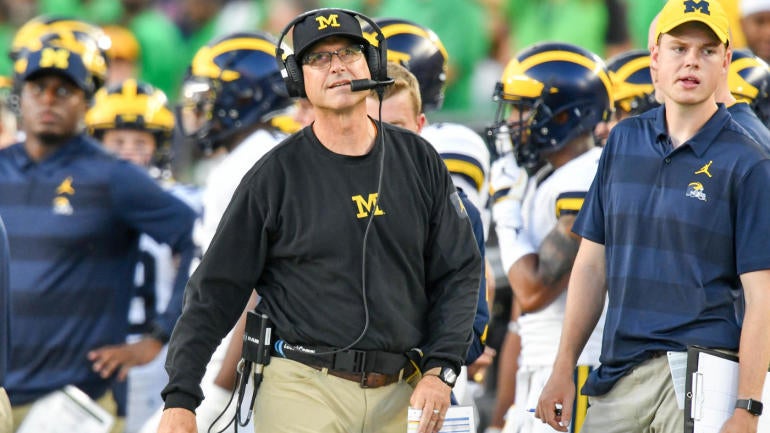 Does U-M have the guts to fire Harbaugh?
Michigan won't fire Harbaugh, unless things completely go sideways and .500 records become the norm. He's the first former Wolverines player to coach the team since Bump Elliott some 50 years ago. But it shouldn't prevent anyone from openly asking the question. Yet everyone with a press pass (see?) isn't asking the question. But they should.
Is it fair to judge a college football coach after one game of his fourth season? If it's someone of Harbaugh's ilk (and money), then the answer is a resounding yes.
The blue chip recruits keep rolling in, drawn to Ann Arbor by Harbaugh's aura and the allure of playing before over 100K people on Saturday afternoons. Yet at the one position where Harbaugh has shown in the past to have brilliance as a coach—quarterback—the results have been mixed, at best.
Saturday, it was transfer Shea Patterson's turn in the spotlight, and while he showed positive signs, the offense still only managed 10 points and when the Wolverines had a chance to drive toward a game-tying touchdown in the closing moments, Patterson failed to protect the football on a scramble. Game over.
Is the football program at Michigan significantly better now than it was four years ago? Hey, is it even marginally better?
Forget about beating Ohio State and Michigan State. How about Michigan beats anyone with a number to the left of their name on the scoreboard on TV?
In big games, big moments, U-M has come up small under Harbaugh. Repeatedly. Which is stunning, because Harbaugh as a player and in other stops as a coach, didn't exuded that negative aura at all.
If anything, Harbaugh has proven that sure, you can go home again. That's the easy part. But going home and saving a footb all program from itself? Not so easy.
To be fair, the expectations for Harbaugh on the heels of seven tumultuous years under Rich Rodriguez and Hoke, were, shall we say…oh, what's the word?
Unrealistic?
When the savior doesn't save
Fans expected Harbaugh to wave his magic khakis and make Michigan a national championship contender without passing GO and without collecting $200. Now, all they want is a Get Out of Jail Free card.
But high expectations aside, even from a moderate expectations standpoint, the years with Harbaugh at the helm have been uneven. The performance against the Fighting Irish, which exposed Michigan as a big school team that wasn't ready for prime time, was the latest nail in a coffin that, while it may never be lowered into the ground, will certainly have a lot of nails in it.
It's fair to ask the question, so why don't we?
Should Michigan end the Jim Harbaugh Era sooner rather than later? If things continue at this rate, absolutely.
But to be fair to the administration, firing Harbaugh puts them in a box. When you hire a savior and end up firing him without being saved, then what do you do?
U-M will ride it out with Harbaugh, for now. It's not like the Big House has been beset with empty seats.
But the suits would sure like to see things start to turn around, and quick. Every loss to a ranked opponent puts added pressure on them to do something about it. If Jimmy could only beat a good team for a change, the suits could relax a little.
Is Michigan football better off now than it was four years ago?
What do you think?