Published March 2, 2019
It's fitting that the single greatest individual performance in NBA history should occur in Hershey, Pennsylvania of all places. It's also appropriate that there is hardly any electronic record of the game in existence.
That was the NBA on March 2, 1962, when Wilt Chamberlain poured in an even 100 points in the Philadelphia Warriors' 169-147 victory over the New York Knicks.
This was the 1960s, for goodness sake, yet the game is almost mythical for its lack of media coverage. No member of the New York media was even in attendance that evening.
The Knicks stunk in those days, but still—to not have a single press person at the game? Especially to cover Chamberlain, whose greatness could portend that on any given night, something amazing could happen?
Like scoring 100 points in a single game.
The NBA: a 'bush league'
But again, that was your NBA in 1962. It was a piddly organization, with small crowds and media coverage that was like a skimpy bikini: barely there. The NBA ran far behind college basketball in those days as a destination for folks' discretionary spending.
In fact, in 1965, Chamberlain himself authored a controversial, two-part piece that ran in Sports Illustrated, called "My Life in a Bush League."
First, let's look at the whole Hershey thing.
The NBA, in a practice that continued deep into the 1970s, was fascinated with the neutral site contest. The league, despite barely able to attract decent crowds in its own cities, decided to barnstorm the rest of the continental United States and stage games in sleepy towns such as Hershey.
The NBA doubleheader was another gimmick. Sometimes occurring in existing NBA cities, sometimes not, the league would offer two games for the price of one. Yet the first game would sometimes begin at 7:30 p.m., meaning the second game wasn't finished until after midnight. That might be OK for the drive-in movie theater, but not terribly friendly for those who were curious about pro basketball.
So it was that the Warriors and Knicks faced off in Hershey. The Knicks, that 1961-62 season, also played regular season contests in meccas such as Moline, Illinois and Utica, New York. The Warriors, for their part, actually played a game that counted in East Chicago, Indiana in addition to Hershey.
How insatiable was the appetite for pro basketball games in Hershey? The arena was about half-filled when Wilt went crazy. Or half-empty, if you're a pessimist.
What isn't nearly as heralded about Wilt's 100-point game is that it occurred on the same night that the Warriors and Knicks broke the league record for most combined points in a game (316).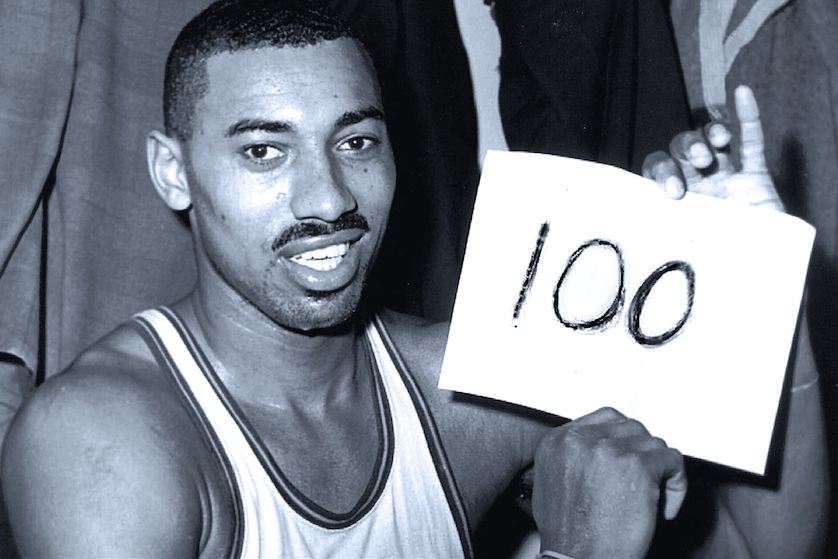 Lack of media= mythical story
Which brings us to the lack of media coverage.
The game wasn't televised anywhere, and today, 57 years later, still no film footage of Wilt's exploits that night have been unearthed. According to our friends at Wikipedia, only an audio recording of the fourth quarter exists.
Hence the mythical nature of what Wilt did that night.
Chamberlain doubled his scoring average against the Knicks on 3/2/62–averaging 50.4 points per game that season. Maybe scoring 100 points in a game was fait accomplit; in December 1961, Chamberlain knocked down 78 points.
Wilt Chamberlain was, by far, the most attractive commodity the NBA had in those days. He was a freak—both in terms of size and in ability. He was averaging 50 points a game! Yet the famously copious New York media sat it out on March 2, 1962.
In a way, it's hard to believe that even that iconic photo snapped after the game of Wilt holding up the scribbled 100 sign, even exists, given the lack of media coverage.
As for Wilt's blistering of the NBA in SI, a personal experience he had in Detroit might have contributed to it.
A bus was called to transport Wilt and his teammates to the arena. Yet what pulled up at the hotel? A yellow school bus.
Wilt Chamberlain, the NBA's greatest player, had to fold his seven-foot frame such to fit in the cramped school bus seat.
It should also be noted that the Pistons played a nationally-televised home playoff game in the early-1960s in a Grosse Pointe high school gymnasium, due to the unavailability of their regular home, Olympia Stadium.
A bush league, indeed.
The NBA was televising its league championship series on tape delay in some markets as recently as 1979.
Then Magic Johnson and Larry Bird entered the league the following fall, and things began to change.
But on March 2, 1962, in a town known far more for chocolate than hardwood, before a tiny crowd and with no TV cameras around, arguably the greatest player in NBA history set a record for the ages.
Typical.