Published March 16, 2019
When Larry Bird and Earvin Johnson stepped onto the basketball floor in Salt Lake City, Utah on March 26, 1979, it was guaranteed to not be the last time the two hoops behemoths would square off. But, it was their first meeting, and the buzz was palpable. You only have one chance to make a good first impression, they say.
Forty years have gone by—chew on that for a moment—since Bird, "The Hick from French Lick," and "Magic" led Indiana State and Michigan State, respectively, to the NCAA Men's College Basketball Championship Game.
College and pro hardwood haven't been the same since.
Titanic shift in college and pro hoops
The collision course that Bird and Magic engaged in during the '78-79 season was merely the first installment of a voluminous series of titanic meetings the pair would help author over the next decade.
It's not hyperbole to say that Bird and Magic, together, lifted the NBA from minor league to major, overnight. And it's accurate to say that before they saved the NBA, the pair put the Final Four on the map.
Until that Monday evening in March of 1979, college basketball's hallmark game had been the night that the University of Houston, led by Elvin Hayes, ended Lew Alcindor and UCLA's 47-game winning streak in the Astrodome in 1968—and that was a regular season contest. Those 40 minutes were dubbed The Game of the Century.
Prior to 1979, the NCAA tournament failed to produce any signature games that were head and shoulders above the rest. There had been some marvelous individual performances, but few games that held America spellbound.
Until Bird and Magic tussled in Salt Lake City.
Nielsen confirms impact
The nation's Nielsen families spoke loud and clear: TV ratings for Bird and Magic's championship game skyrocketed to a 24.1 rating, which amounted to a 20 percent increase over the 1978 game, which pitted Kentucky and Duke. Want more raw numbers? This equated to about 40 million viewers in 18 million households.
The nation's basketball fans—from hardcore to casual—wanted to see Indiana State and Michigan State in the Final. Check that: they wanted to see Bird against Magic, with all due respect to the other eight players on the court at any given time.
Indiana State was undefeated going into the championship game (33-0), while MSU had suffered six losses against 25 victories. But despite that disparity in records, the Spartans were favored, mainly due to the fact that Magic had a capable sidekick in Gregory Kelser, while Bird's second, Carl Nicks, wasn't seen as being as effective as "Special K." Not only that, but MSU played in the Big Ten, while the Sycamores competed in the Missouri Valley Conference, which was seen as inferior.
Still, 33-0 was nothing to sneeze at, and 33 also was the number that Bird wore. Then again, Magic wore 33 as well for MSU.
One of the 33s was going down on 3/26/79, just as Alcindor, donning 33, went down against Hayes in the Dome 11 years prior.
But enough with the numerology.
The 1979 championship game wasn't about uniform numbers, it was about two superstars whose upcoming pro careers were greatly anticipated, with the title game in Utah serving as a sneak preview of what was to come, competitively, between the two ballers. Despite playing just two seasons in East Lansing, it was widely known that Magic would turn pro in time for the 1979 NBA Draft. Bird was a college senior.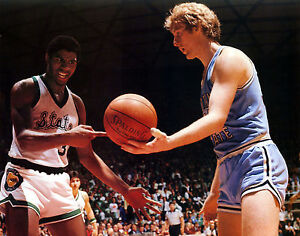 The Game
The game didn't disappoint, though MSU maintained control most of the evening. Like a boxing match, the Spartans led in points going into the final rounds/minutes. A double-digit lead for MSU early in the second half got trimmed to six with about 10 minutes to play.
But Kelser, who battled foul trouble, re-entered the game and supported Magic's efforts in beating back Bird and company. The Spartans won, 75-64.
It would be formulaic to say now that in retrospect, the ISU-MSU championship game turned out to be more than Bird vs. Magic. But that would also be inaccurate. The whole evening was about Bird vs. Magic. Hell, the entire tournament that March was about Bird vs. Magic. Only a monumental upset could have spoiled things—an upset that didn't come close to happening for the Spartans. On the flip, the Sycamores won two games in the tournament by two points each.
Other than the Arkansas game, Bird and Magic led their teams to systematic destruction of their tournament opponents—back when the field was only 32 teams. More on that in a moment.
Never before had a college basketball game been so eagerly awaited. When Hayes and Houston upset Alcindor and UCLA, that game wasn't circled on people's calendars. It just sort of snuck up on folks.
Bird and Magic couldn't sneak up on anyone.
Individually that night in Salt Lake City, Bird labored with his normally deadeye shot, draining just 7-of-21 field goal attempts on his way to 19 points. For his part, Magic went 8-for-15 from the field and led all scorers with 24 points. Kelser chipped in with 19 points and snared eight rebounds.
Yet despite his mostly cold shooting, Bird led the Sycamores on their mini-comeback in the second half that turned a borderline blowout into an interesting finish, before free throws helped make the score look deceiving.
Bold Sycamore fans looked at their team's 33-1 final record and said it represented Bird's jersey number and their status as No. 1 in the nation.
But Magic and the Spartans were the best team that night, and for the season overall. They weren't accidental champions. In the tournament, MSU won their five games by an average of 21 points.
Conquering the NBA
After Salt Lake City, it was on to the NBA, where Bird (Boston Celtics) and Magic (LA Lakers) seemingly met every spring for the league championship. In 1979, the NBA was still televising its Finals by tape delay in many major TV markets. After Bird and Magic entered the league, that practice ended.
The NBA pre-Bird and Magic was still a professional league struggling to find its toehold in the national pantheon of sports. The separation between pro hoops and the NHL, which had long struggled to be embraced by American television networks, wasn't all that much. Pro football and Major League Baseball were the unquestioned leaders in fans' hearts—and dollars.
But the epic duels between Bird's Celtics and Magic's Lakers in the 1980s (they met three times in the Finals, with Magic and the Lakers winning twice) turned the NBA on its ear. Even the league debut of a kid named Michael Jordan in 1984 couldn't stem the tide right away.
As for the college game, the NCAA tourney grew almost as soon as Bird and Magic turned pro. The field went from 32 teams in 1979 to 64 within 10 years. You can thank the two no. 33s for that.
Never before, and never since, have college and pro basketball both been impacted as critically, so close to each other chronologically, as they were in 1979, when Larry Bird and Magic Johnson fought for the college title in March and began their revival of the NBA some seven months later.
Forty years ago. Yikes.