Published April 14, 2019
The crutches were in full view. And they weren't a prop.
Isiah Thomas spoke to the media in Inglewood, California. He wore a t-shirt that was an amalgam of the Los Angeles Raiders and Detroit Pistons personas–a garment that touted the Bad Boys image, along with the Raiders' iconic, eyepatched pirate. A gift to the Pistons from Raiders owner Al Davis.
The crutches were a stark reminder of the gravity of Thomas's situation. It was the off day between Games 6 and 7 of the 1988 NBA Finals between Isiah's Pistons and the Los Angeles Lakers. In the third quarter of Game 6 in the Forum, Thomas turned an ankle, badly. On one leg, he still managed to pour in 26 points in the quarter. The Lakers survived, barely, to force a seventh game.
Will he or won't he?
That was the question that Isiah was addressing to the throng, sitting at a table and speaking into a series of microphones. Would Isiah play in Game 7, despite an ankle that required crutches in order to simply walk?
The answer wasn't really in doubt. You'd have had to seal Isiah Thomas in a coffin to keep him out of Game 7 of the Finals. And even then I wouldn't bet against him.
Isiah, at far less than 100 percent health, played in Game 7, but his inspiring presence wasn't inspiring enough. The Lakers won, 108-105. Championship glory was put on pause for Isiah and the Pistons for 12 months.
The toughness of the 6'1″ point guard was never in question. The Smiling Assassin, I've called him. Yet sometimes, even the greats have ill-timed injuries that limit their effectiveness.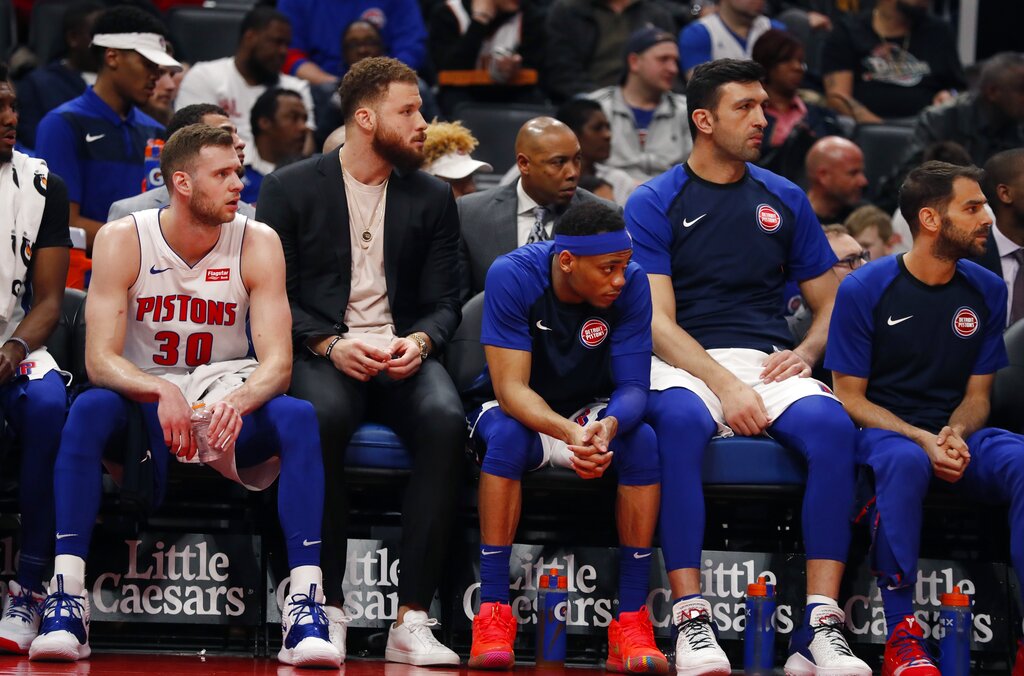 Griffin: gym shorts or street clothes?
Will he or won't he?
That's the question that now surrounds Blake Griffin of today's Pistons. Griffin, like Isiah before him, is the unquestioned leader of his team. The Pistons without Griffin are considered as a basketball team playing four against five on the court.
Will Griffin play, or won't he play, in the Pistons' first round series against the mighty Milwaukee Bucks, due to a bum knee? The team says their All-Star forward is "day-to-day," that ancient status.
If Griffin does play, he will be less than 100 percent. And even with a fully healthy Griffin, the Pistons (41-41) are prohibitive underdogs against the 60-22 Bucks. Without Griffin? Has there ever been a three-game sweep in a best-of-seven series? Because that's what could happen here.
Griffin's situation, when compared apples to apples, isn't close to what Isiah Thomas's was in 1988, because of the gravity of what was at stake back then. But when comparing the 1988 Pistons to the 2019 version, it's not apples to apples. More like apples to grapes.
For the Pistons of today, this playoff series against the Bucks is almost like their Finals. It took a lot out of them just to get here. A furious sprint during the last 32 games of the season was required, just to finish .500 and in the eighth slot of the Eastern Conference tournament.
This isn't the 2019 Pistons' version of the Finals in the sense that they feel the pressure to win the series. But they do need to win at least one game. The Pistons haven't won a playoff contest since 2008.
Yet to win that one game, the Pistons need Blake Griffin on the floor.
An eighth seed that meant something
Normally, I'm not of the mind that an eighth seed in the NBA playoffs is anything to celebrate. These 1 vs. 8 matchups in pro basketball never end well for no. 8.
But the Pistons needed to make the playoffs this season. Until two weeks ago, their seeding seemed secure. They had risen to the sixth spot.
A late slump nearly required a win over the 17-win Knicks on the season's final day for the Pistons to clinch a playoff spot. What a long summer it would have been if the Pistons had lost to the Knicks and missed the playoffs.
So why does clinching a four-game sweep at the hands of the Bucks mean so much?
Well, it's still playoff basketball, no matter how much of a cameo appearance it is. It's still the first postseason experience for so many current Pistons. You have to start somewhere.
Second, it's a legitimate crossing off the list of what coach Dwane Casey wanted to accomplish in his first season in Detroit.
And third, it's a chance for Griffin to put more luster on what has been a throwback season for him, at age 30.
Bad time for a bad knee
Sadly, there's cruel irony at work here.
Griffin played in 75 games this season, his most since 2014, thanks to a variety of physical ailments suffered over the past several years. But now, when the Pistons need him the most, Griffin has a tweaked knee and might not suit up at all against the Bucks.
"I'll sit with our training staff and whoever else needs to be in on that decision…each day (of the series)," Griffin told the media after Saturday's practice in Milwaukee, when asked, hey, are you playing or not?
Griffin doesn't need crutches to walk. And unlike Isiah, who had one off day between Games 6 and 7 in 1988 to nurse his mangled ankle, Griffin hasn't played for about a week.
But again, you have to compare these two situations on a curve.
If nothing else, whether Griffin plays in the playoffs or not this spring, he's slayed some demons this season. Maybe thanks to his injury-prone years since 2014, Griffin has been forced to alter his game a little–become more well-rounded, if you will.
It's enough to make even the most cynical Pistons fan feel a little better about the behemoth contract that has Griffin's signature.
The Pistons don't have a snowball's chance in you-know-where to upset the Bucks in this series, with or without Griffin. No team has ever been better represented by a .500 record than the Pistons, about as a schizophrenic, untrustworthy group as you'll ever see in pro sports.
This playoff appearance for the Pistons isn't about winning or losing a series. It's about gaining postseason experience and toughening up their pedigree. That's what happens when you're trying to build something from scratch and dig out from under Stan Van Gundy.
Will he or won't he?
Ultimately, it won't matter. But Griffin needs playoff basketball again. Almost as much as his teammates do.